Engaging Special Ed Classrooms with Video: Mike Byrne's Quest to Bring the World to Students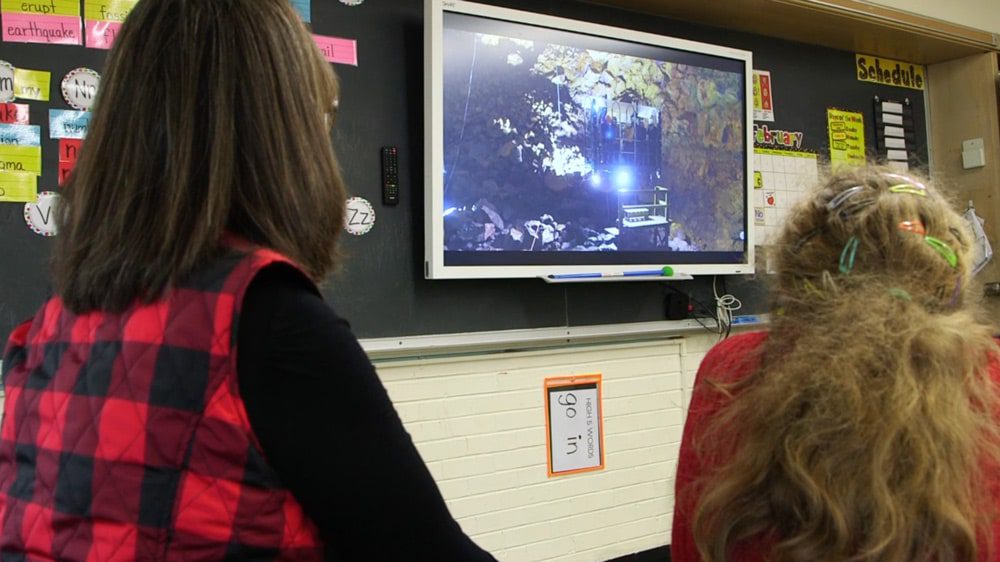 The classroom lights dim. Students fall quiet as a strange and desolate terrain fills the screen. We're in Iceland, our video host Don Johnston tells us, as we enter what appears to be a cave. "There's only one place in the world where you can go inside a volcano," he says. "It's here. At Three Peaks Crater."
Iceland, Don says, is where Journey to the Center of the Earth begins. This sensory-rich video introduction leads learners with complex needs into an accessible literacy unit based on the classic science fiction novel by Jules Verne. With a variety of differentiated learning materials like leveled graphic novels, informational texts, comprehensive literacy instruction, and video content that engages students in learning and reading, Readtopia's curriculum takes middle-and-upper-grade special education learners all over the world… and into the heart of a giant lava mountain.
This isn't as treacherous as it sounds—Three Peaks Crater hasn't erupted in over 4,000 years, and Don isn't alone down there. His friend Mike Byrne is the man behind the camera, and as head of Readtopia's video production, Mike has accompanied Don on many, many adventures in the name of learning—adventures even more dangerous than standing inside of an ancient volcano.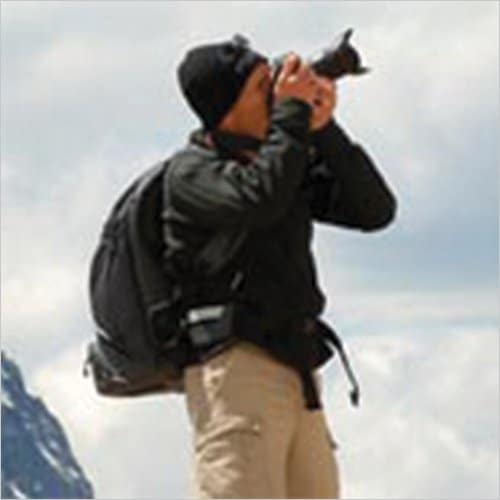 Mike fell in love with the art of photography early in life, purchasing his first SLR at age 16. His first professional photography gig, documenting the development of the breath-taking Kananaskis Provincial Park in the Canadian Rockies, helped pay his way through university, where he received a BA in creative writing. From there, he launched a K-12 educational media company where videography came to dominate his work. "It allowed me to merge my writing skills with my photography skills and start telling visual stories to illuminate moments in history."
He knew Don Johnston, founder of Don Johnston, Incorporated, from trade shows and sharing an occasional dinner on the road. But when Don reached out via phone about a potential collaboration, the question was "more significant than I ever could have imagined," Mike says.
That's because that phone call would eventually lead to the creation of Readtopia, Don Johnston Incorporated's experiential literacy curriculum. The videos Mike and Don produce for Readtopia join an accessible lineup of age-appropriate learning materials aligned to state standards. Readtopia is aimed at engaging student interest through the timeless, adventurous narratives of classic literature.
Mike and Don collaborate closely on video production. This includes concept development, writing scripts, auditioning and selecting actors, costumes and props, directing and filming, and post-production processes. The videos, along with seven reading levels of graphic novels, informational texts, literature, and phonics & words studies, are organized into themed units that use the lens of storytelling to teach different subjects, including ELA, math, and history. This is where Mike's creativity is really put to work. "Engagement comes from storytelling, so my biggest job is finding the best story to tell, and then identifying the most engaging way to tell that story," Mike says.
As a man who's been on many personal adventures, Mike is fulfilled in the role of Readtopia's lead videographer. "I can think of no more worthy a project than producing videos for people who struggle to learn. What other project could be more challenging for my skills, and more rewarding when I am successful?" Mike says, "and beyond that, what project could possibly have the scope and breadth of Readtopia, one where I get to explore topics ranging from Cleopatra to the Civil War, from Copernicus to Alexander Graham Bell, and from Shakespeare to Mark Twain?"
Mikes tells us that his primary goal when he's hard at work on Readtopia's video content is to create an experience that evokes student curiosity. "My hope is that students who watch the videos want to learn more. Even better: that they are excited to learn more," he says.
And according to educators and specialists who use the curriculum, Mike and Don's work more than exceeds that goal. "Just like a movie preview, these videos give students a great introduction to the story. They get to meet the characters, see the period clothes that the actors are wearing, to see the setting, where the characters live. It really just sparks all of our students' interest into reading the text." says Sarah Wakabayashi, a speech-language pathologist at the William E. Carter School in Boston.
For example, the video introduction to Edgar Allan Poe's "The Gold Bug" takes learners to Sullivan's Island, South Carolina, where they experience the landscape and the characters. The narrative tension builds in this five-minute video: A mysterious gold bug found on the island! A man crazed from its bite! A secret treasure map! The watcher is left longing to discover more about the story, sparking student attention and motivation.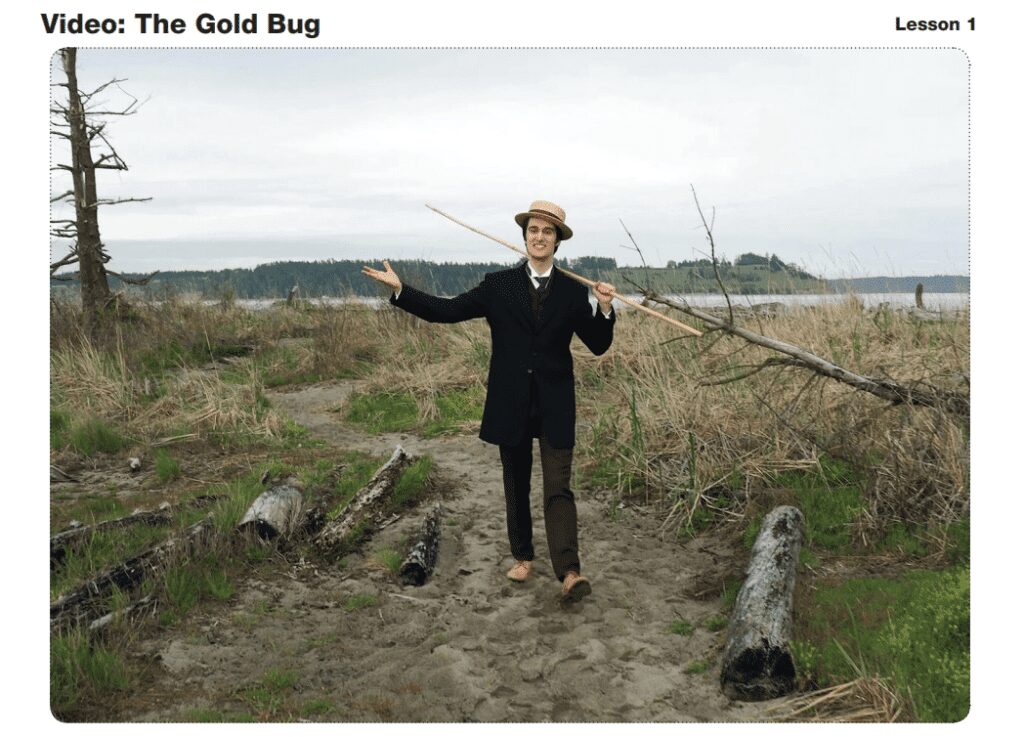 The Carter School's staff and students also deeply appreciate how Readtopia's video content takes advantage of the story's context to weave in academic and social/emotional skills across various subject matters.
"We get to introduce math concepts with the videos, and we ask our students, 'These are characters from the story and they're talking about shapes as well, where are the shapes in the story?' And they're no longer abstract concepts. With Readtopia, we're really making the learning come to life with them." says Kim Kulasekaran, lead teacher at the Carter School.
In the unit based on "The Gold Bug", for example, the supposed treasure map is drafted on an old piece of parchment. We learn in the video lesson about geometry that the man with the map doesn't want to fold the parchment, so he measures it with a ruler to determine if it will fit inside his backpack. Teaching concepts like perimeter within the story shows us just how useful math can be in real-life situations.
Bringing adventure into the classroom
Each of Readtopia's videos is like a virtual field trip. And learners are able to experience these field trips from the comfort and safety of their classrooms or their Chromebooks. Which is probably a good thing, because what is adventure without a dose of calculated risk? As we learn from the classic stories that shape Readtopia's content: an adventure isn't an adventure if there's nothing at stake.
As Mike tells us, filming the video content for 20,000 Leagues Under the Sea was particularly risky, though he and Don didn't know it at the time:
I invited Don to join me in Roatan for a filming project that would see us descend 1,000 feet below the ocean's surface in a tiny, homemade submarine that had never been inspected by anyone who knew anything about submarines (except the builder). The sub was so tiny Don could barely fit down the hatch. Then I had to go in and squeeze beside him.
The trip down was fantastic and incident-free. That night, when I was reviewing our footage, I saw a trail of bubbles escaping from the sub. I asked the sub builder about the bubbles and his answer was chilling. 'Oh, that's the silicone sealant I use… it never perfectly seals the sub!' I went down for a second voyage the next day and lived to tell the tale.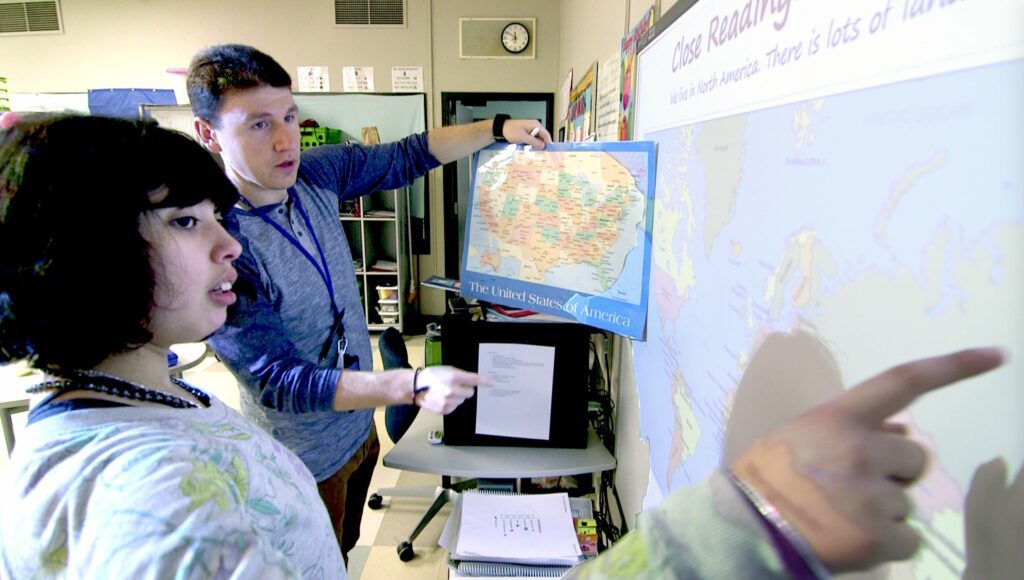 When you watch the introduction video for 20,000 Leagues Under the Sea, you can see the underwater view of the submarine while Don narrates in the background, "20,000 Leagues Under the Sea is a tale of adventure." The trail of bubbles rising from the submarine will assure you that this adventure is an authentic one!
Believe in Better — Try Readtopia in your classroom
Access sample Readtopia reading curriculum materials