Readtopia Thematic Unit—Fact or Fiction anchored by The Wizard of Oz brings inquiry to the special education classroom
Readtopia® is on a roll. Thousands of educators providing special education services now have access to more than 30 units—each containing 6-8 weeks worth of instructional content. The Readtopia Thematic Unit-Fact or Fiction anchored by the Wizard of Oz  unit is one of the growing selection of upper elementary units, which make Readtopia appropriate for students with complex needs ranging in age from late elementary through high school.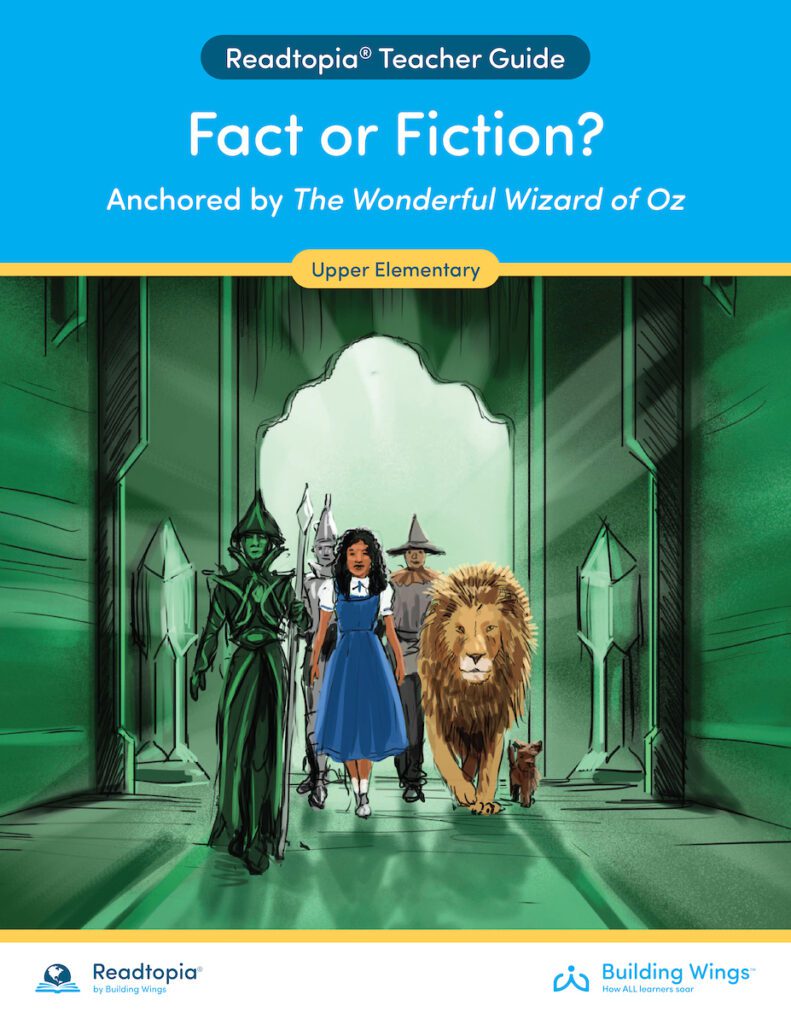 Fact or Fiction brings inquiry to the special education classroom
The thematic unit Fact or Fiction, anchored by the classic tale The Wizard of Oz, teaches students in special education and autism classrooms the difference between truth and make-believe within the context of The Wizard of Oz. Multiple lessons challenge students to classify different scenarios into these two categories: Can a tornado lift up a car? Is a crow smart? Can a scarecrow scare a crow? These questions are sure to spark lively classroom discussion..
"We're doing Fact or Fiction right now, and it's incredible!" says Abbey Lynch, a special ed teacher in a self-contained classroom at MacArthur Middle School in Prospect Heights, IL. "All of my students have significant social-emotional and behavioral needs with a variety of cognitive abilities and the social-emotional learning component of this story is fantastic."
ELA / Literature Component—ELA graphic novel at five levels
Each of Readtopia's thematic units connects content-area subjects with narrative content. In this case, the Fact or Fiction thematic unit is anchored by The Wizard of Oz by L Frank Baum, transformed into graphic novels at five levels.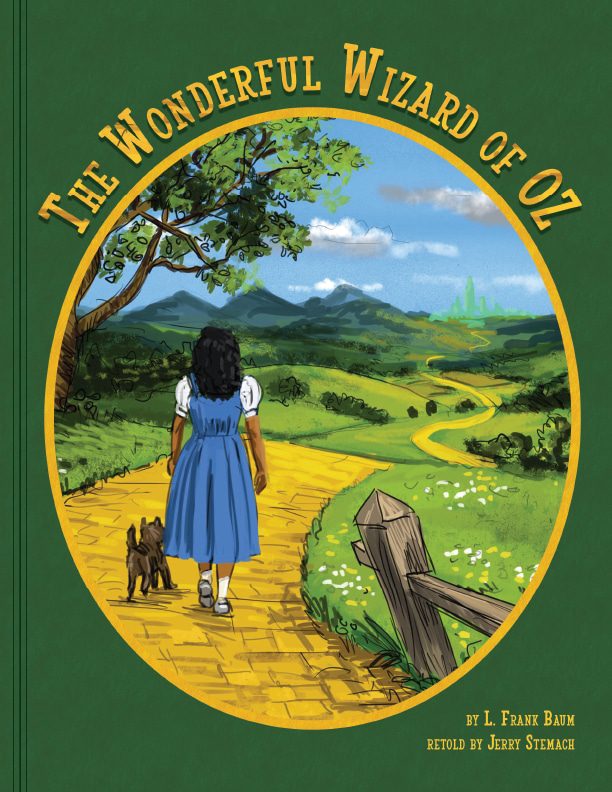 This book relays the familiar story of Dorothy and her dog Toto, who are whisked away from Kansas to the land of Oz by a tornado. There they meet a scarecrow, a tin man, and a lion, and together they embark on a perilous journey to seek the guidance of the great Oz. SPOILER ALERT! In the end, however, they discover that what they needed, they already had within them—they just needed each other's friendship to find it.
Mary Krenz, Readtopia content director, says: "We adhered to the original story more so than the movie version starring Judy Garland—they took quite a few liberties. We stayed more to Baum's original text."
"I liked that things kept happening in a surprising way," says a young reader. "It was a good story with a lot of action."

Content Area Learning Component — Science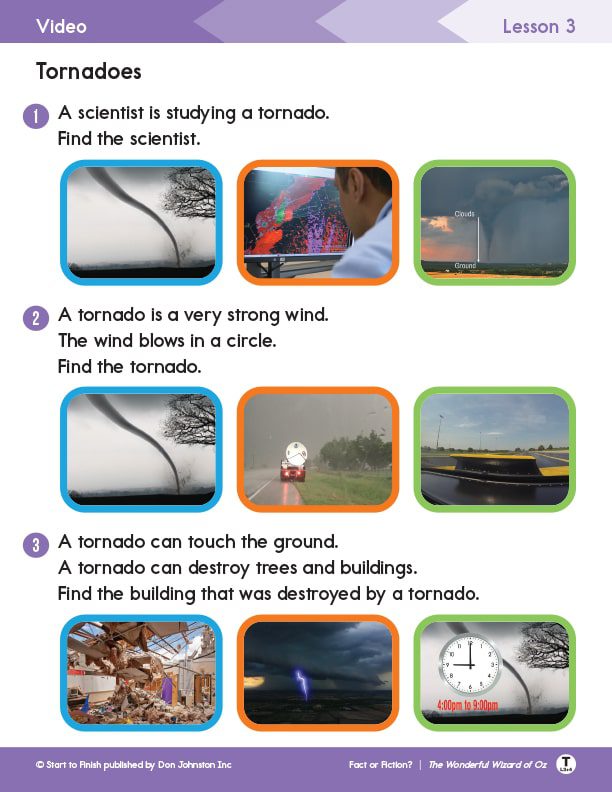 Of course, you can't read The Wizard of Oz without talking about tornados. The phenomena of these fascinating & destructive funnels of wind is engaging to students. We witness a tornado in action in the graphic novel, and the concept is explicitly taught via video in Lesson 3 and reinforced by an article with a sidebar in Lesson 9.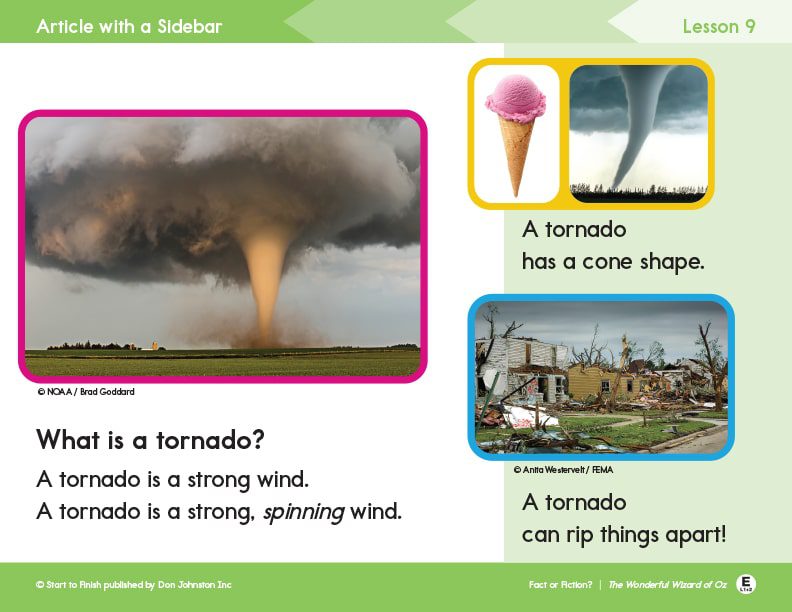 Readtopia Math is standards-aligned, and designed for students with complex needs, including students with autism, taking the alternate assessment.
Math lessons use the familiar literature, story settings, and characters within Readtopia to engage students and teach math within the context of each thematic unit.
In Fact or Fiction, we learn about fractions by separating animals into two groups: those that belong in Dorothy, Aunt Em, and Uncle Henry's house, and those that belong in the barn. We then learn about how Dorothy can cut an apple pie so that everyone can eat a piece, including Toto!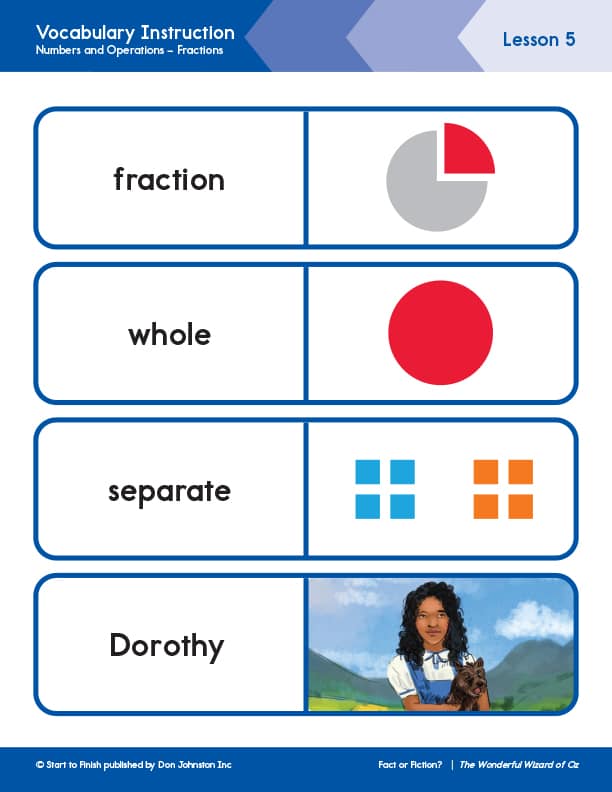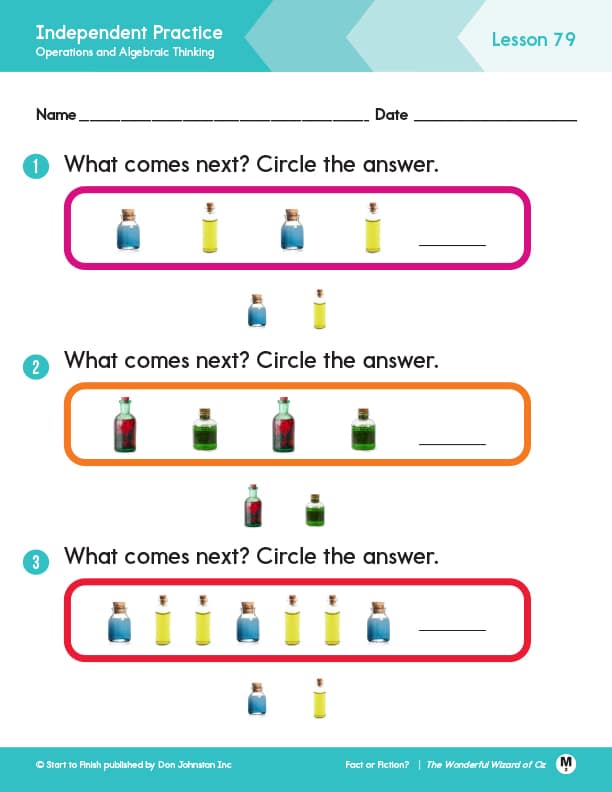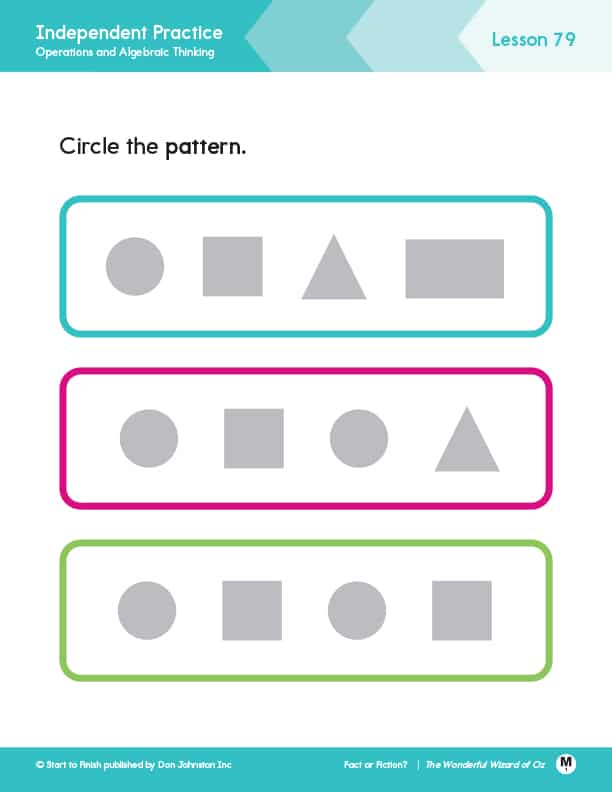 Shapes and patterns promote algebraic thinking.
Math Objectives for Fact or Fiction –
Geometry: Identify shapes that are the same; sort shapes by number of sides or angles.
Money: Identify the value of money, more and less; counting on.
Numbers & Operations – Fractions: Divide into equal sets or areas and recognize fractions (halves, thirds, fourths, and tenths).
Numbers & Operations in Base Tens: Combine sets and count to add; Use repeated addition to solve problems.
Operations & Algebraic Thinking: Use shapes and numbers to create a pattern.
Subtraction: Separate sets and count to subtract: use single and double digit numbers to subtract.
About Readtopia Upper Elementary
Readtopia Upper Elementary is designed to support literacy instruction and content area learning for upper elementary students with complex learning needs. Each Readtopia Thematic Unit provides the resources you need to teach standards-aligned comprehensive literacy. Multi-leveled materials allow students to learn at their optimal instructional levels. Lessons are structured to provide both whole and small group instruction.
If you already have a Readtopia License, you already have access to this thematic unit. If not, receive free samples lessons from Readtopia and other instructional materials at our companion site, MyLearningLiftoff.com