Readtopia Thematic Unit — A Story of Survival anchored by The Swiss Family Robinson for Upper Elementary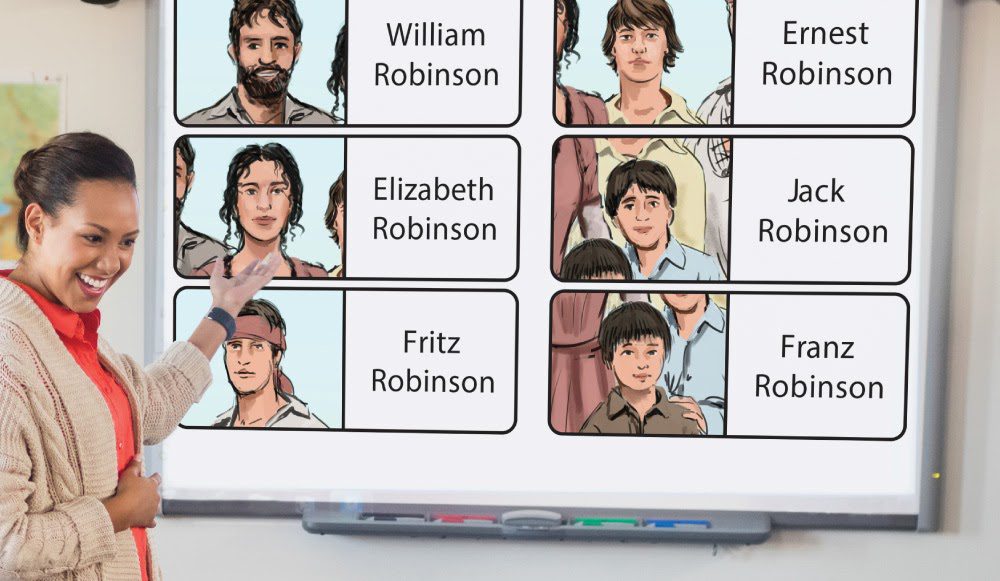 Readtopia® is on a roll. Thousands of special educators now have access to the just-released thematic unit for upper elementary students. The theme, A Story of Survival teaches students that there are always challenges in life. It takes tenacity to overcome those challenges.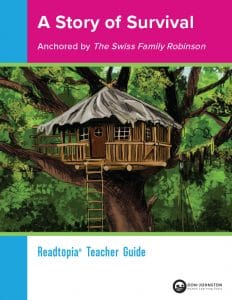 Thematic Unit Resources & Instructional Components
The thematic unit includes a Teacher Guide that walks step-by-step through the entire unit, which typically takes 6-8 weeks to complete. It is the navigator that helps special educators deliver engaging lessons that include the following resources:
Videos– quickly engage students and provide an opportunity to introduce vocabulary, build background knowledge, and mental models to support learning.
Leveled Readers– offering five levels of accessible text- anchor reading comprehension as you introduce, model, and practice literacy and communication skills through Interactive Read Aloud and Shared Reading Lessons
Informational Text– provided at three levels- includes science, social studies, and social / emotional topics.
Predictable Chart Writing– Offers students at all reading levels an opportunity to participate in structured and systematic shared writing activities.
Phonics Instruction – Offered at three levels including Learning Letters, Making Words, and Independent phonics lessons.
Integrated Math– provided at four levels- connect basic mathematical concepts with thematic unit content using Video/ Vocabulary lessons, Hands on Application lessons, and Independent Practice
ELA / Literature Component—ELA graphic novel at five levels
The A Story of Survival thematic unit is anchored by a modified version of the classic novel, The Swiss Family Robinson by Johann David Wyss—a story of immigration, shipwreck, and survival.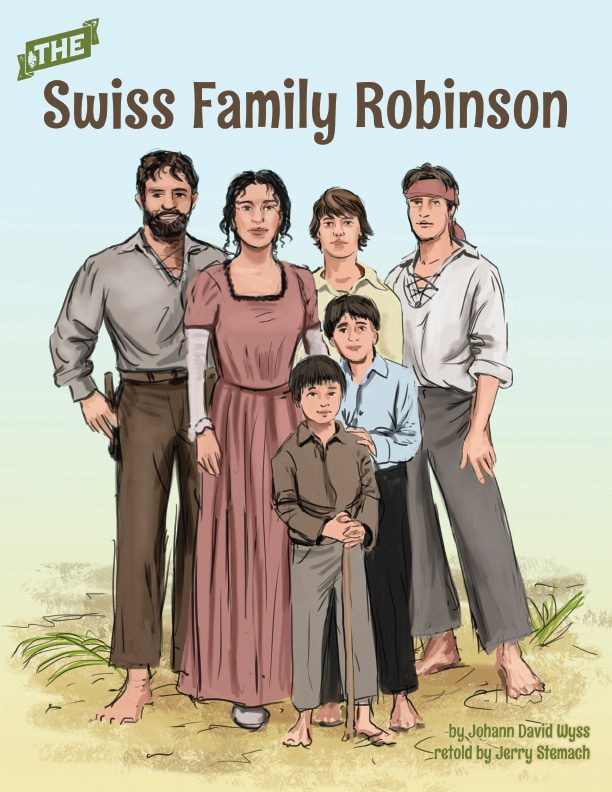 The story takes place more than 200 years ago. The Robinsons are crossing the ocean to a new land. But when a storm hits their ship, they crash into rocks. There is an island nearby, but can they reach it? There are sharks in the water and dangerous animals on land.

Mr. and Mrs. Robinson and their boys must make a raft, hunt for food, and build a house. Can they do it?

This book will take you there to find out while engaging all of your students.

Content Area Learning Component — Social Studies and Science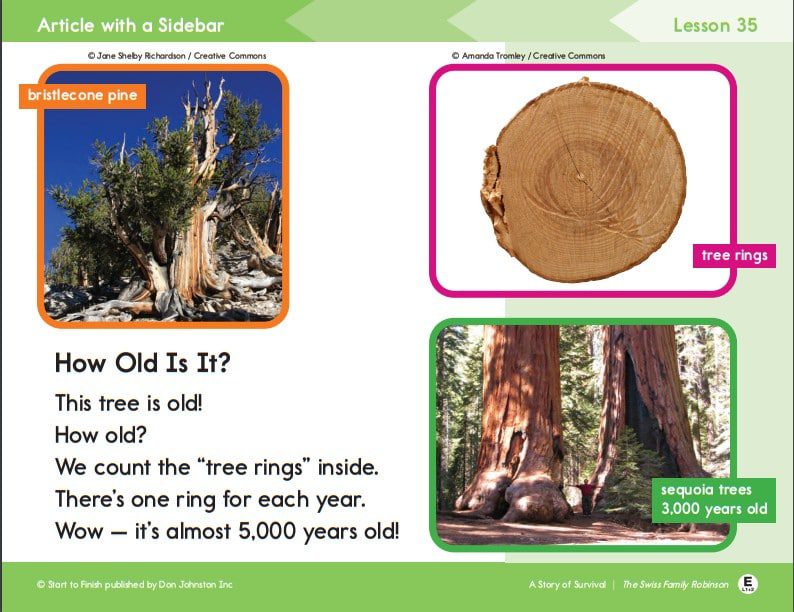 The thematic unit integrates maps and directions (below) as informational text types as well as lessons on science such as how to tell the age of a tree (above). These lessons are incorporated into video, reading, and many other lesson types so they flow seamlessly throughout instruction, with the teacher guide to help guide the way.
Readtopia Math is designed for students with complex needs including students with autism taking the alternate assessment.
Math lessons use the familiar literature, story settings, and characters within Readtopia to promote student engagement and to teach math in the context of what is being taught within each thematic unit.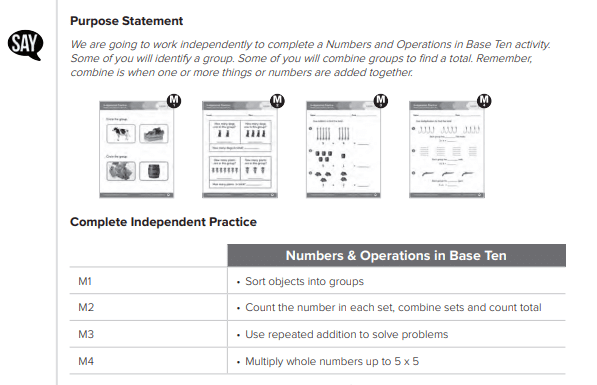 A math lesson from the teacher guide takes students through a Base Ten activity—teaching students about grouping.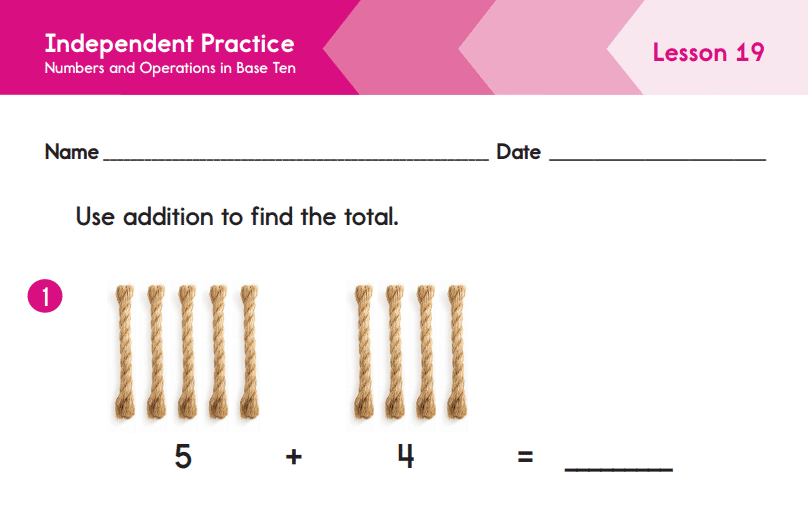 Math Objectives for A Story of Survival –

• Addition-Combine sets and count to add; Use single and double digit numbers to add.
• Geometry-Identify shapes that are the same;Sort shapes by number of sides or angles.
• Money-Identify the value of money, more and less; counting on.
• Numbers and Operations in Base Tens-Combine sets and count to add; Use repeated addition to solve problems.
• Operations and Algebraic Thinking-Use shapes and numbers to create a pattern.
• Time-Sequence pictures using "before," "during," and "after;" Tell time to the hour, half hour, and minute.
Social Emotional Learning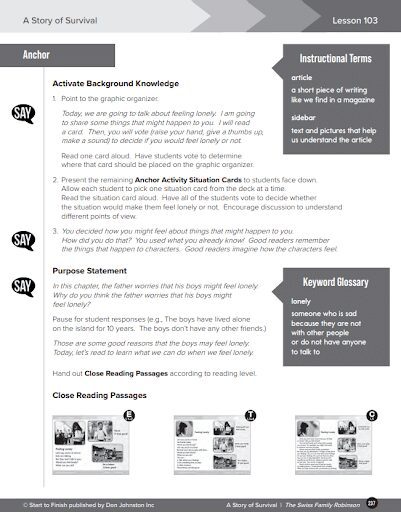 Social Emotional Learning is incorporated into the ELA lessons with a focus in this unit on feeling lonely. The goal is to help the students identify and understand what situations the characters are in that may make them feel lonely, and what situations the students themselves are facing that make them feel lonely. Building understanding and empathy within the students for each other and understanding of the deeper meanings within the text. The lesson gives activities, readings and video to help teachers connect the story to the students' everyday lives.
About Readtopia Upper Elementary
Readtopia Upper Elementary is designed to support literacy instruction and content area learning for upper elementary students with complex learning needs. Each Readtopia Thematic Unit provides the resources you need to teach comprehensive literacy. Multi-leveled materials allow students to learn at their optimal instructional levels. Lessons are structured to provide both whole and small group instruction. The Teacher Guide is a godsend—helping you implement the most effective instructional strategies while giving you time back to spend with your students.

Believe in Better — see what Readtopia Upper Elementary would bring to your instruction and your students
Presented by: Karen Erickson Ph.D., Don Johnston M.S., and Jeanmarie Jacoby M.Ed.